CTG believes that empowering women will help create stronger and more peaceful societies. 
In 2018 CTG Giving made a donation to Elman Peace and Human Rights Foundation. Elman Peace is committed to providing innovative, life-saving support to those in need, particularly victims of gender-based violence. The foundation established the first rape crisis centre in Somalia, called Sister Somalia, which provides psychosocial counselling, trauma healing and emergency medical care to survivors. The foundation also launched an initiative called Drop The Gun, Pick Up The Pen, which focuses on reinstating children and young adults from armed groups and militias back into their societies, as well as preventing the use and recruitment of children into armed forces.
CTG's CEO, Alice delivered the donation to Elman Peace in Mogadishu. After meeting Fartun and Illwad Elman who lead the organisation, she said it "was inspiring to see the incredible support they give to the extremely courageous and strong women who endure in the face of towering adversity."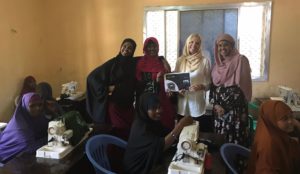 Elman Peace used CTG's donation to setup a one-month entrepreneurship training programme for women at a victim support centre. The training concluded with business pitches made by the participants and the winning pitch received a $4,000 business investment opportunity. The benefactors of the CTG Giving grant were therefore not only able to give back to the community, but could also train other women in the centre.
CTG Giving looks forward to donating further grants that empower women in fragile and conflict-settings.