The St John of Jerusalem Eye Hospital Group is a charitable organisation that runs an ophthalmic hospital located in Jerusalem, alongside other eye-care medical facilities in the West Bank and Gaza Strip. As a wholly owned corporate subsidiary of the Venerable Order of St John, the Hospital Group is headquartered in Jerusalem and operates as one of six hospitals in the East Jerusalem Hospitals Network. It serves as the primary provider of eye care in the Palestinian territories.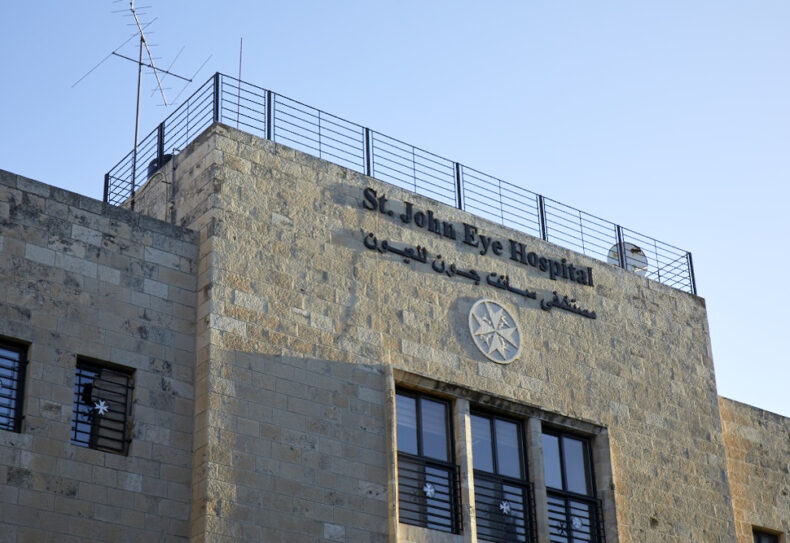 Founded in 1882, St John's is a renowned institution, with a long history of serving the local community and providing care to patients from all over the world. Over the years, they have expanded their services, offering a range of eye care treatments, including cataract surgery, cornea transplants, glaucoma treatment, and more. The hospital is renowned for its cutting-edge technology, highly skilled medical professionals, and patient-centric approach
With a remarkable legacy spanning over a century of providing eye care to those in need, St John's was founded by a group of physicians from the UK and has since grown to become one of the most respected eye hospitals in the world. Despite facing challenges over the years, including periods of ongoing conflict in the region, the hospital has continued to provide care and support to patients, demonstrating a remarkable commitment to their mission and values.
The hospital provides a range of eye care services, from routine exams to complex surgeries, and operates outreach programmes to reach underserved populations. In addition, the hospital provides training and education programmes to help build the capacity of eye-care professionals in the region, enabling them to provide better care to their patients. Over the years, the hospital has treated hundreds of thousands of patients, improving their vision and quality of life. Their impact extends beyond the immediate community, with St John's playing a vital role in training and supporting eye-care professionals from around the world and advancing the field of eye care.
The Chelsea Group has a special connection with St John of Jerusalem Eye Hospital. The Chairman's mother, The Dowager Lady Westbury, has been a dedicated supporter of the hospital for many years and has carried out various initiatives with fundraising group Guild of St John, who were established in 1926. The Chelsea Group is proud and honoured to be supporting St Johns and playing a small role in helping them improve the lives of patients.

Find out more about their initiatives and how you could get involved here.