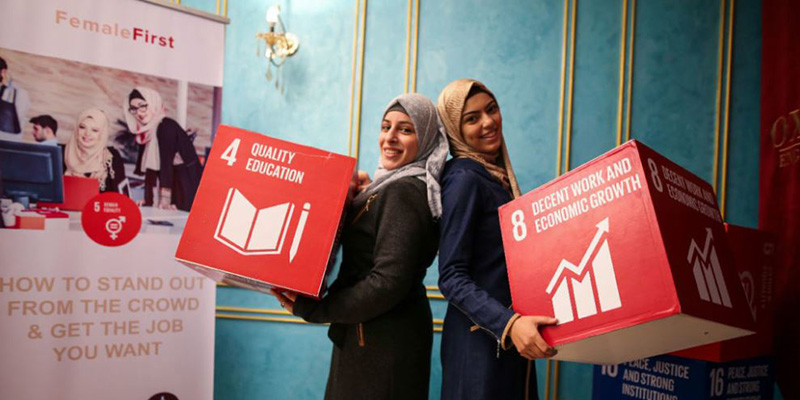 On Saturday 17 November, CTG hosted its inaugural Female First career expo in Gaza in partnership with the Oxford English Centre, titled 'How to Stand out from the Crowd & Get the Job You Want'.
A Focus on Career Development 
Focussing on career-development and CV building, the workshop welcomed 25 recent female graduates every Saturday morning for 4 weeks, providing them with the opportunity to boost their understanding of tools such as LinkedIn, and further develop vital professional skills such as writing a great cover letter, as well as tips and tricks for interviews.
The 'Female First' Initiative
The workshop, coordinated by Mahmoud Shehada, CTG's Senior Account Manager in Gaza, ties in with CTG's Female First initiative. The initiative, founded on International Women's Day in 2017, pledges to create job opportunities for women in conflict-affected areas, where the unemployment rate for women is nearly double that of men. With a goal of having 30% of project-related roles represented by women by 2030, CTG strives to change this narrative, and disassociate the stigma that has come to surround women and their roles in society, and more specifically, the workplace.
Learning How to Stand out From the Crowd
Young skilled women experience more barriers in their transition to work than young skilled men, therefore it's essential women receive all the skills they need in order to become successful candidates. Asmaa Alburai, a workshop attendee and recent graduate from the Islamic University who has since taken up a bachelor's degree in English Literature, spoke of her ambition to work in fields relating to languages and translation, as well as business and entrepreneurship.
Adding to this, Asmaa commented on the value of the female first career expo, stating that her interaction with the coaches and other young women helped solidify her understanding of career-related skills, and that it has, indeed, taught her how to 'stand out from the crowd'.
One attendee, in particular, spoke very positively of her experience at the career expo. As said by Mai Telbani, a Palestinian national,
I am inspired by every woman who makes a name for herself and has made the world see that women have the ability, the power, the skills and the potential to lead the world.

It Starts with a Professional CV 
Another enthusiastic workshop-goer was Faten Alsourani, a Gaza native and recent law school graduate. With her dream to work for an established international human rights organisation, Faten shared her wish to learn how to write a CV of international standards. She stated that the career expo exceeded her expectations in terms of this, enabling her to successfully write a quality CV that she was confident would set her in the right direction.
It's 2019. It's time to cheer on girls and women who want a seat at the table. Careers have no gender, and CTG's Female First initiative, combined with Mahmoud's efforts in organizing the Female First Carer Expo in Gaza, further exemplify just how much women truly have to offer the working world, and that equality can only be achieved if everyone, men and women alike, works together.
Gender inequality in the workplace is rife in Gaza, possibly because of a lack of experience and shortage of opportunities. I believe that gender-balance makes for a stronger, more effective team and helps to strengthen communities. I suggested the Female First initiative in an effort to advance initiatives to promote sustainable gender equality and promote women's advancement in the workplace.
CTG is a part of the Chelsea Group, a dynamic family of companies.