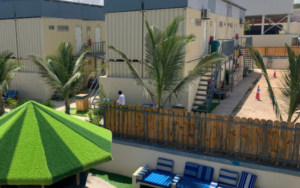 When it comes to the kind of night's sleep that is worth writing home about, it is probably surprising that container accommodation, situated in a conflict zone, is infrastructure worth mentioning. However, ongoing guest feedback from Chelsea Village, a secure compound within Mogadishu's Aden Adde International Airport zone in Somalia, is that one is able to recharge and sleep better in the protective, cocoon-like, field accommodation called NapCap, than at home. Chelsea Village is an Enigma Alliance project, featuring their range of bespoke container solutions as well as expertise from their camp operating specialists COG.
Protection, Insulation, and Comfort Like No Other Container Accommodation 
Unlike similar products in their category, NapCap containers are reinforced with steel that offers both overhead and side blast protection. So with guests' peace of mind taken care of, NapCap creators have accomplished what no flatpack accommodation units have achieved: eliminating any discomfort created by extreme outside elements. Through quality insulation that omits noise, humidity, wind, draft, and leaking, the air-conditioned units are also designed for excessive temperature resistance ranging from -25⁰C to 50⁰C.
For humanitarians, medics, diplomats, and security personnel working in the field, secure and comfortable accommodation is the ultimate luxury and this is something that NapCap designers have taken to another level by creating spaces that feel like home-from-home.
NapCap containers are the result of extensive consultation with experts who have spent years working in dangerous environments. They are designed and crafted according to ISO and UN MOSS standards with innovation and design that uses smart technology from Australia.
Enigma Alliance CEO, Stuart Page, explains how NapCap is part of the Group's turnkey life support solutions.
"While we have piloted NapCap for use in conflict zones and ensured their safety with the side and overhead blast protection, they are easily adaptable for use in any field situation," says Page.
Multiple Design Options
Through a commitment to constant innovation, fourth-generation 40-foot, Premium NapCap containers comprise two living, sleeping, and working areas, each with their own en-suite bathroom. And taking personal preference into account, units come in two different styles offering clients a choice between an Executive unit with dark wood and black metal finishes, or an Eco unit with white metal and pale wood finishes.
Not only are NapCap units stackable, making them easy to transport and store, but they also boast multiple, bespoke, design options. For instance, variations to include more sleeping accommodation in the 40-foot containers is an option, as is the possibility of a 20-foot design or VIP Suite.
The VIP Suite, which in addition to the luxury styling, offers more space and privacy for the executive with its larger bedroom, en-suite, private lounge, and work area. Amongst other comforts, it contains a queen-sized bed, 32″ LCD flat-screen TV, Blue Tooth sound system, and adjustable mood lighting to create atmospheres that are conducive for both work and relaxation.
And if this doesn't sound like enough, clients can look forward to the NapCap Villa, which currently in its design phase, will offer two to three-bedroom, environmentally-friendly, homes that are able to withstand the toughest of elements.
Peace, Comfort, and High-Speed Internet
There's no doubt when it comes to client safety and comfort, everything about NapCap has been carefully considered. From the high-speed internet where Skype calls, Zoom meetings or Netflix films can continue uninterrupted, to the clean water dispenser in the living area, touch button safe, desk lamp, hairdryer, linen, towels, laundry service and so much else, it seems peace and tranquillity are achievable, even in the most unlikely destinations.
For a detailed specification document about NapCap container accommodation products, please contact Enigma Alliance, Chief Commercial Officer, Colin Laubscher on colinl@enigma-alliance.com
Enigma Alliance is a member of the Chelsea Group, a dynamic family of companies.