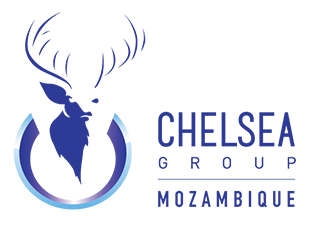 Sectors:
Investment Management, Industry and Technology, Construction and Property Development, Mining, Security, Transport, Telecommunications, Energy, Agriculture, Tourism
Head Office:
Maputo, Mozambique
Rua Francisco Matange Nr 70, Maputo
Tel: +258 21 420 719
E-mail: 
Office.mozambique
@chelseagroupworldwide.com
admin.mozambique
@chelseagroupworldwide.com
Chelsea Group Mozambique
Chelsea Group Mozambique is a young company founded in 2015 but is supported by decades of operational experience within the broader Chelsea Group. Chelsea Group Mozambique is lead by dedicated local talent combined with international mentoring. Current projects include developing affordable housing for veterans, commercial property developments, port management, fisheries protection, mining,  agriculture and tourism initiatives.
Chelsea Group Mozambique values Corporate Social Responsibility and we actively integrate the concept of investment for social impact by outsourcing to local communities to share commercial benefits. Chelsea Group Mozambique is equally committed to environmental sustainability, which is applied across all our projects. We help clients achieve sustainable business outcomes by sharing our best practices and investing in transformative solutions. For us, it is about leaving a footprint to be proud of.
CEO Chinguane Mabote is part of the fabric of Mozambique, and is son of the late Lt. General Sebastião Mabote, while Chelsea Group Chairman Lord Westbury has been working in Mozambique for more than 20 years. This local engagement combined with depth of experience ensures first-class solutions for our clients.

150 000
The number of houses being built with the Mozambique Ministry of Veterans.

6 000
Families that will benefit from this development, which will be replicated around the country.

7
The number of International Major Navigation Lines that will be serviced by the new Dry Port being developed by CGMoz in Beira on over 39 600m2.